California Faces Climate Emergency Head-on
The Golden State is harnessing wind, geysers, and irrigation farms as well as manufacturing batteries that store and release clean energy, to reduce carbon emissions while providing sustainable sources of clean energy.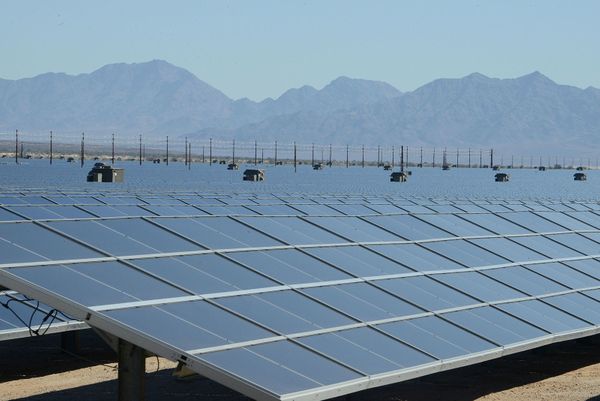 California is a leader on many fronts, and when it comes to climate change, the Golden State has taken great leaps to create sustainable solutions. Harnessing their sunshine, Californians have created large solar ranches and farms with tremendous clean energy capacity supplying this power to hundreds of thousands of homes.
The Antelope Valley Solar Ranch in Lancaster and the Desert Sunlight Farm are one of the largest solar energy sources in the world, located in Riverside County. Together, they supplant 893,000 (279,000 + 614,000) metric tons of CO2. This is equivalent to removing 190,000 cars off the road.
And the Golden State has gone further, harnessing wind, geysers and irrigation farms, manufacturing batteries that store and release clean energy, to reduce carbon emissions while providing sustainable sources of clean energy.
The Manifestation of Climate Change in California
Over the years, California's natural disasters have taken on a form that's described as unnatural by some. Reports show the state has become much warmer with Southern California's temperatures increasing by 3℉. Different changes in California's weather patterns have been attributed to this warming:
Wildfires aren't only occurring earlier, but they're also more frequent, extreme, and lasting longer than in the last several decades. The results are widespread destruction, loss of life, while also increasing management and reparative costs.
Droughts are longer and more severe, as evidenced in the 2012-2016 drought.
The Sierra Nevada snowpack, a vital source of water for Californians, has been melting earlier and quicker. Given that current reservoirs have been built to handle a gradual release of melted snow in spring and summer, if current trends continue, it will require investment in additional storage capacity - which is costly and would likely be controversial.
Impact of Climate Change on California's Properties and Housing
The reality that some have termed climate emergency, has had adverse effects on nature and increased the impact of natural disasters, resulting in:
Destruction of wider forest acreage by wildfires
Increased destruction of residential and commercial property
Increased erosion of coastal lands, destruction of coastal homes and property due to flooding
Unprecedented years of drought have resulted in dried-up wells and extreme water shortages for some communities.
These spell different realities for home and property owners. Wildfires like Camp Fire of November 2018,  saw over 35,000 people in Paradise town displaced and over 14,000 homes destroyed in Butte County.
After Camp Fire, towns like Chico in Butte County, saw over a 15% increase in residential home prices, as well as a 76% increase in home views, compared to the same period the previous year. And the number of days houses stayed on the market reduced from 68 to 37.
In the face of climate change-related natural disasters, property values could be affected in numerous ways:
Lower value and demand for properties in areas prone to these disasters.
Rising property insurance premiums
The increase in property taxes, depending on a property's compliance to codes and policies related to climate change risks.
To mitigate the destruction of property by wildfires, building codes like the 2008 one have been passed and continually amended. The code requires using fire-resistant roofs and materials in construction, allowing optimal distances between homes and other safeguards.
California's Climate Change Ambitions: Why More Needs to Be Done
From Governor Reagan in 1967 to current Governor Gavin Newsom, California's leaders have kept a legacy of ambitious and effective climate change policy:
And California has diligently stayed on track, even meeting AB 32's goals 4 years early.
However, recommendations show California needs to step up, in order to sustain the current trend, and counteract the effects of the recent disasters, which have released worrisome amounts of GHG.
The California Green Innovation Index has projected that if the state retains its current GHG emission reduction rate, it'll be more than 30 years late to meet its 2030 targets and more than 100 years late to meet its 2050 targets.
The state's 2030 targets include a 40% reduction in GHG emissions from its 1990 levels. Its 2050 targets include an 80% reduction in GHG emissions as well as having an operational, zero-carbon electricity system.
Next 10 also highlights the fact that most of the GHG emission reduction has been achieved by the electricity sector since 2000, while other sectors like the transportation industry and housing have seen minimal reductions within the same time period.
A lot more effort is still needed in these sectors, especially the commercial sector, which has registered more than a 64% increase in emissions.
Conclusion
Climate change is a global issue. If California is to achieve their 2030 and 2050 goals, it is going to take a concerted effort. Instead of stifling California's efforts to combat climate change, the Trump Administration, and the administrations that will come after this should support these efforts.
It's equally important that the state enact policy and legislation that adequately address homelessness and the plight of disadvantaged citizens living in disaster-prone areas. Also, initiatives like the Energy Upgrade California that empower and stir Californians to achieve their states' goals should be massively supported for a greener, sustainable, and carbon-free state.
California recognizes its climate emergency. Perhaps if more states were to follow suit, we would be on our way to make notable strides in our fight against global warming.
Augurisk is a risk assessment platform for Climate Change, Natural Hazards and Societal Risks. We help people and businesses assess climate risks associated with their properties, so they can better prepare for the future.