Communities in California are at risk of more wildfires as the weather conditions can become critical this week. Low humidity, increasingly hot, dry air, and gusty winds can create a high risk of fires in California from Wednesday to Friday (October 14-16, 2020).
Residents are advised to exercise extreme caution to prevent new wildfires in this area. Any outdoor burning activities must be carefully avoided. If new fires appear, they are likely to spread at a dangerously rapid pace.
A heat advisory has been issued from Tuesday until Friday, with temperatures as high as 90 predicted at lower elevations. To prevent heat illness, locals are advised to avoid the sun, stay in air-conditioned areas, and make sure they drink enough water.
On Tuesday, October 13, warming temperatures and gust winds can create elevated fire weather conditions in Southern California during the evening and overnight.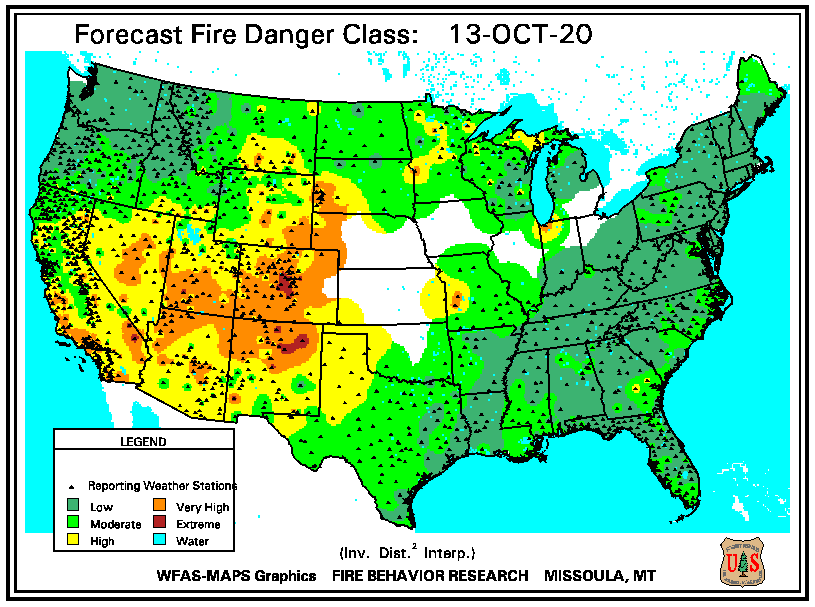 On Wednesday morning, winds around 20 mph with gusts up to 25-30 mph are expected to spread across the Central Valley, Delta, and Coastal Range and prevail until Friday morning. The critical fire weather area will affect the Sacramento Valley of California. The areas affected include Santa Barbara County Mountains, Ventura County Mountains, Los Angeles County Mountains, San Marcos Pass, San Rafael Wilderness Area, Dick Smith Wilderness Area, Lockwood Valley, Mount Pinos, Acton, Mount Wilson, and Sandberg.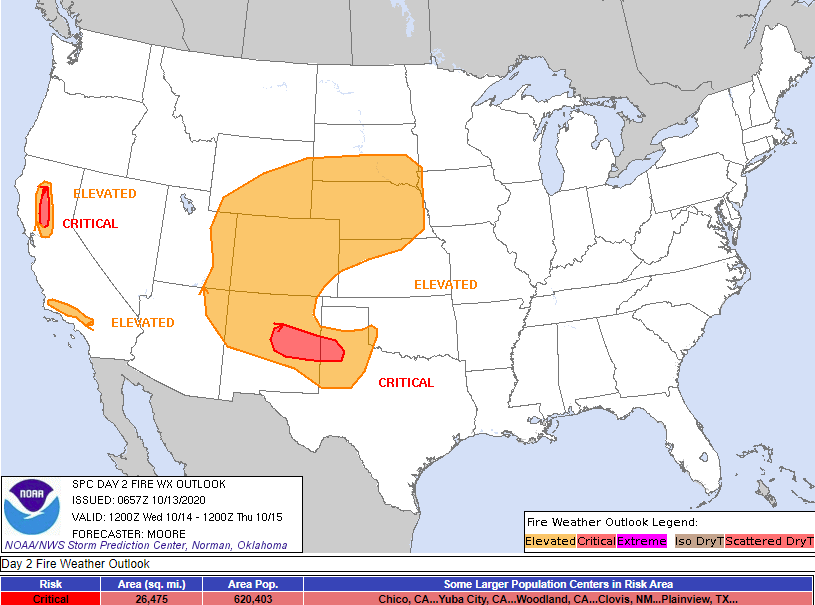 In Southern California, nocturnal winds and elevated fire weather conditions are also projected from Wednesday night into Thursday with wind speed up to 15-20 mph within the higher terrain with local higher gusts.
Update: A Red Flag Warning has been issued for California in effect from Wednesday noon to 11 AM PDT Friday. This means that critical fire weather conditions are highly likely. A combination of strong winds, low humidity, and warm temperatures can trigger extreme fire behavior. As gusts increase to 20-40 mph, there is a threat of fast-moving wildfires over Trinity, eastern Mendocino and much of Lake County.
Is your property at risk from wildfires? Find out with the Augurisk wildfire hazard assessment.