Credit: The NASA Earth & National Oceanic and Atmospheric Administration (NOAA)
Update: Delta made landfall in Louisiana as a Category 2 hurricane, then quickly weakened to Category 1.
Hurricane Delta is expected to reach category 4 status and strike the northern U.S. Gulf Coast on Friday, October 9. The National Hurricane Center warns Delta will become considerably larger, bringing hazardous weather conditions along the coast.
Life-threatening storm surge and severe hurricane winds are expected, especially across the coasts of Louisiana and Mississippi. Residents from the upper Texas coast, Louisiana and Alabama must ensure they have their hurricane plan, monitor storm surge and hurricane watches, and implement any advice from the local officials.
Dangerous surf and rip current conditions from Delta will arise across the northern and western Gulf coast on Thursday afternoon.
There is a risk of tornadoes between Thursday night into Friday over parts of southern Louisiana, southern Mississippi, and southwest Alabama.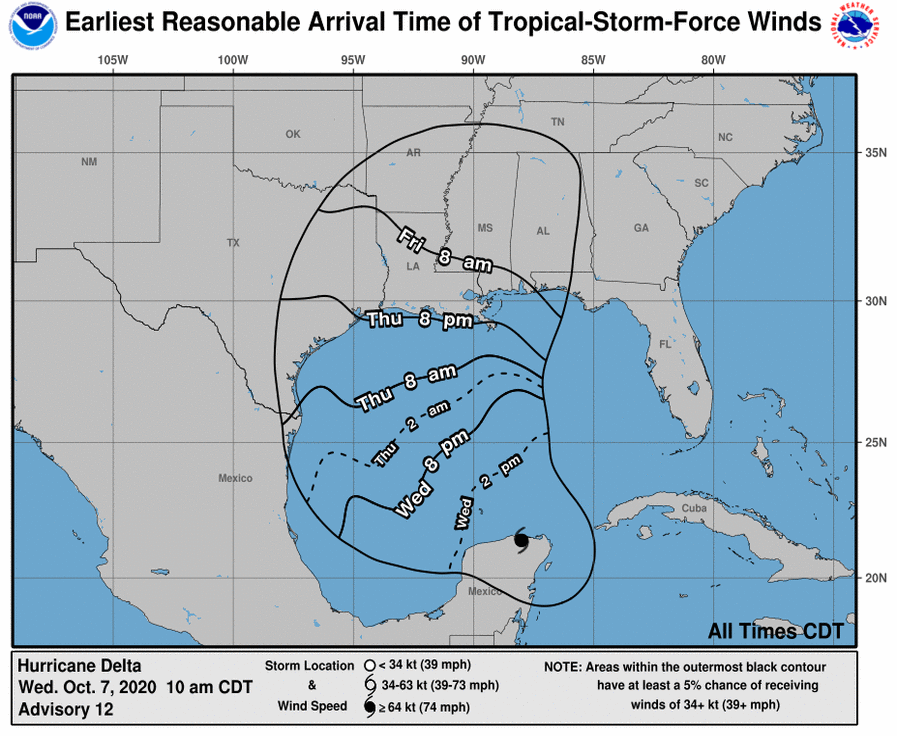 Between Friday and Saturday, Delta is projected to produce 4 to 8 inches of rain, and reach up to 12 inches total in some parts of the central Gulf Coast north and the Lower Mississippi Valley. Heavy rainfall will trigger flash and urban flooding, as well as small stream floods and minor river flooding.
Over the weekend and beginning of the next week, the winds will weaken with rains spreading over the Tennessee Valley, and interior southeastern United States. Heavy rainfall is also expected in the Ohio Valley and Mid Atlantic during the weekend (1 to 3 inches of rain).
Over the past 24 hours, the wind speed in Delta has increased to 85 mph. This rapid intensification is attributed to the ocean heat conditions in the area being the highest in the tropical Atlantic basin.
To find out whether your property is at risk from coastal flooding, visit augurisk.com