Storm Kay: California and Arizona on Wind, Flood, Heat and Fire Alerts
As tropical storm Kay approaches California, 8 million people are under flood watch, while 30 million remain under heat alerts.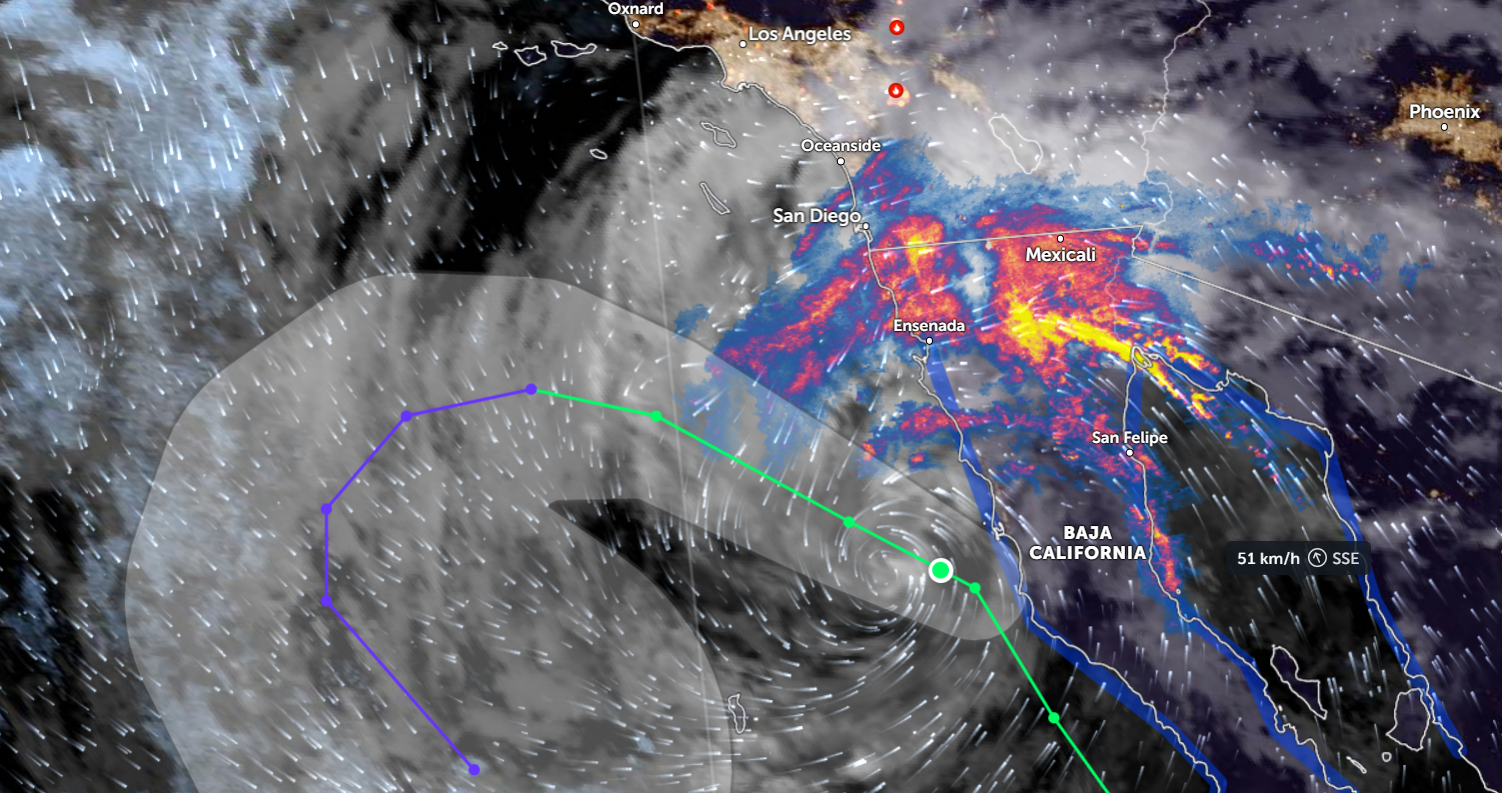 Multiple extreme weather warnings and watches are in effect for communities in southern California and parts of Arizona, as tropical storm Kay approaches the U.S. coastline. Strong winds ahead of the storm may aggravate the burning wildfires in some areas, followed by storm surges, heavy rains, and massive flooding.    
Tropical storm conditions will extend to the Northern Gulf of California coastline, where a Tropical Storm Warning has been issued.
Floods
Communities across Southern California must prepare for flash, urban, and small stream flooding starting today (Friday, September 9), especially around the peninsular ranges. At least 8 million people are under flood watches in southern California and portions of Arizona.
Arizona and southern Nevada can also endure flash, urban, and small stream flooding.
Residents can determine whether their property is at risk of floods using the Augurisk Flood Risk Assessment.  
High winds
Strong winds are rising in parts of southern California and extreme southwestern Arizona. According to the National Hurricane Center, the maximum sustained winds were near 50 mph (85 km/h) with higher gusts (as of 800 AM PDT Fri Sep 09 2022).
The Weather Forecast Office in San Diego, California, reports that winds are already accelerating across the region, and rains are expected to follow soon. The map below illustrates the wind gusts for today (Friday, September 9).
Storm surge
Coastal flooding is possible in areas of onshore winds along the coast of the northern Gulf of California, combined with large damaging waves.
Excessive heat and wildfires
Over 30 million people in California were under heat alerts as of Friday morning. Excessive heat combined with strong winds ahead of Hurricane Kay may further promote the spread of wildfires in drought-stricken areas of California.
On Thursday, California Governor Gavin Newsom declared a state of emergency for three counties over two major wildfires raging in the area.
The Fairview Fire in Riverside County has already burned through 27,319 acres and was only 5% contained as of Thursday night, according to Cal Fire. The potential of fire to move to the west will be very high due to strong 40+mph east winds and possible extreme down slope winds from the surrounding mountain peaks.
The Mosquito Fire, burning in both El Dorado and Placer counties, has burnt over 14,250 acres and was 0% contained as of Friday morning, according to Cal Fire. The fire showed extreme behavior and growth, threatening over 3,600 structures and forcing thousands to evacuate their homes. The weather in the fire area will remain extremely hot and dry overnight and through Saturday.
All Californians must be prepared for wildfire before it ignites in their community. Residents can determine whether their home is at risk of wildfires using the Augurisk Wildfire Risk Assessment.  
On Friday evening, heavy rains from the thunderstorms may moderate the fire activity, but the lightning in the area may pose additional risks of fires.
The NHC forecast predicts weakening of Kay during the next couple of days, and degeneration into a remnant low by Saturday.
For assistance with the Flood and Wildfire Risk Assessment, contact Augurisk.